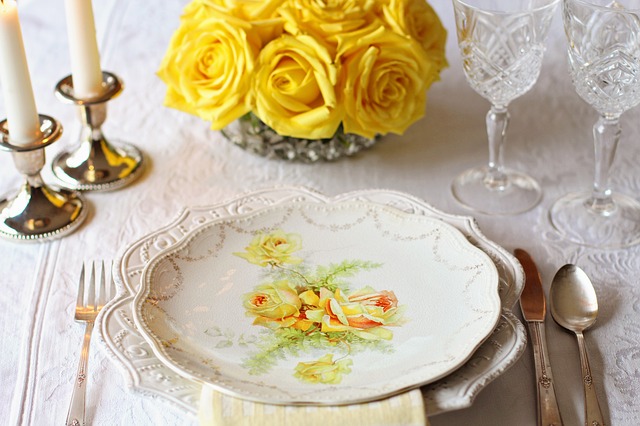 Over 20 years ago, when my husband and I were getting married, we didn't register for formal dishes. Back then, in the 90's it seemed that everyone registered for formal dishes except us. We did register for stemware, so we'd be able to have a toast at our wedding in crystal champagne glasses though!  If we had received 12 place settings of fine china, we probably would have kept them in boxes in the spare bedroom of our apartment. I guess it just made sense not to register for it in the first place.
While we were the exception back then, couples not registering for formal dishes are the rule today. When wedding website The Knot started doing surveys of wedding registries in 2008, they found that 36% of couples registered for formal dishes. That number decreased with each new survey: 29% in 2011, 28% in 2013 and only 26% in 2014. That's the most recent survey results I found, but I expect it's safe to assume that the number of people registering for formal dishes has either stayed the same or gone down in the past 3 years. (If anyone does find something more recent, please post a link in the comments as I'd love to know what the number currently is!)
I suspect a fair number of those couples will eventually regret that decision, like my husband and I did. An internet search yielded plenty of blog posts like this one and this one that lament the decision not to register for formal dishes. Just months after my husband and I were married, we bought our first home with a formal dining room and suddenly had plenty of room for 12 matching place settings.
Back in the early years of our marriage, we would invite people to dinner occasionally and I would pull out the old Pfaltzgraff stoneware. While it looked okay on the table, it just looked, well, okay. It never really looked nice the way the tables in the magazines do.
So years ago we decided to purchase some formal china. Since we weren't registering for it, we realized we weren't limited to what was in the department stores. We found an abundance of patterns available on Craigslist and ebay for a lot less than what we'd seen in the stores. I fell in love with the Haviland Ranson pattern's elegance and also figured that if it was still in abundance after debuting nearly 100 years ago, surely it could be seen as a truly timeless pattern. I was happy to have let others determine the china I was choosing would indeed stand the test of time. 
So why do I think everyone should have – and use – formal dishes?
There's just something about eating on formal dishes that elevates any occasion. It makes the meal a little bit more special and I would swear that food tastes just a little bit better on it. It changes the goal of dinner; no longer is it a race to get done and move on to the next task or activity as quickly as possible, but the meal itself becomes the focus for a time.
You don't have to save the dishes for special occasions either, as bone china and porcelain are extremely hard and durable, and most manufacturers say their china is dishwasher safe.** I like how this blogger eats breakfast off her china in the morning before her young children get up. It gives her the opportunity to still use her formal dishes, even if she doesn't yet trust her children with them. What a great way to start the day! I think I'm going to have to start giving that a try.
 I don't like to use the term "adulting," but I'll make an exception and say that serving a a meal on formal china is adulting at its finest.
 Next up is "Using Your Formal Dishes Part 2: Fancy Dishes Dinner"
**Note: Please check with the manufacturer before putting your formal dishes in the dishwasher. While Lenox claims that all of its china is dishwasher safe, Mikasa still recommends hand washing fine china. Noritake says the majority of their patterns are dishwasher safe, and Wedgwood advises using only certain dishwasher settings.